What is Xeomin Botox? What are the advantages of other brands of Botox? Why do botox injections have no effect?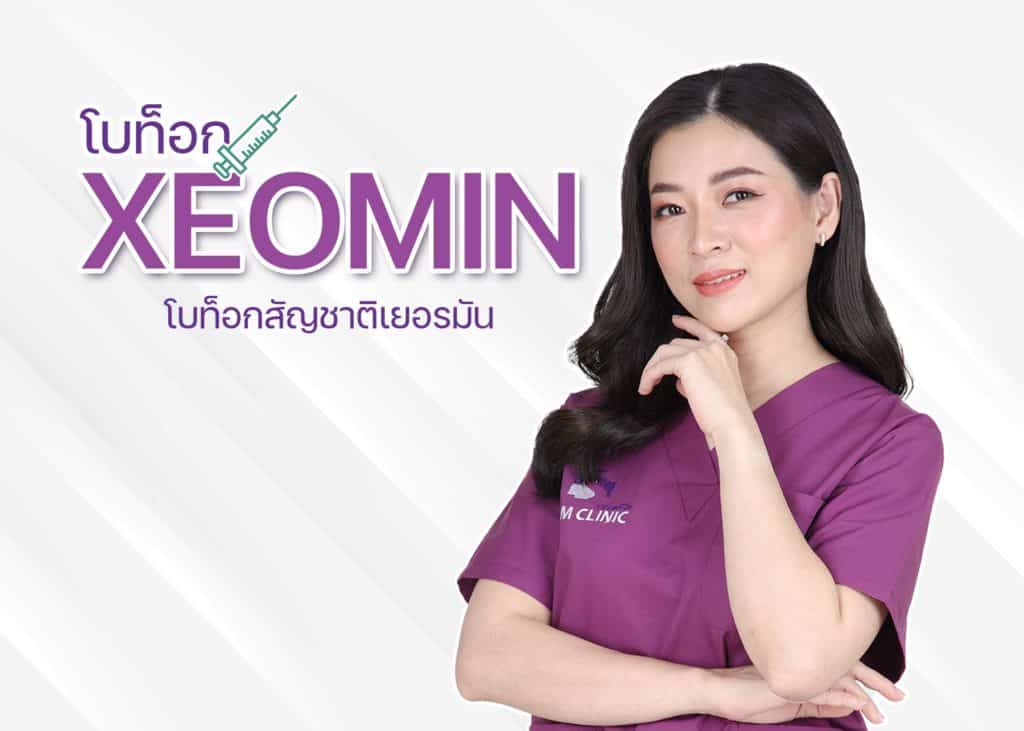 Xeomin Botox is a German botox, a small molecule of Botox compared to other brands.™ This makes Botox molecules smaller but retains good neurological inhibitory performance.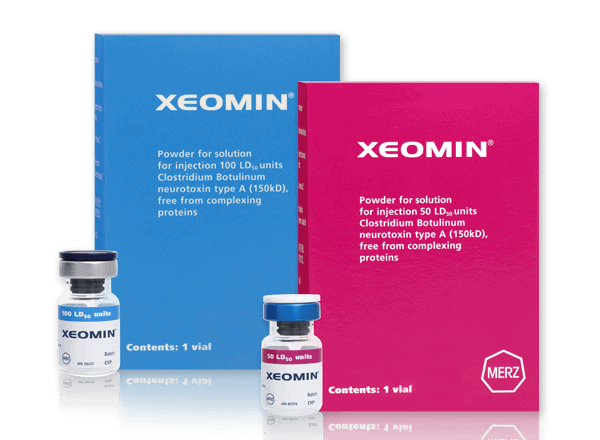 And with German Botox, Xeomin has eliminated unnecessary proteins. This makes Botox highly purity. The chances of resistance are low, and research confirms that if Xeomin is injected in cases with a history of Botox resistance, it will be more effective than other brands if the injection interval has been 2-3 years.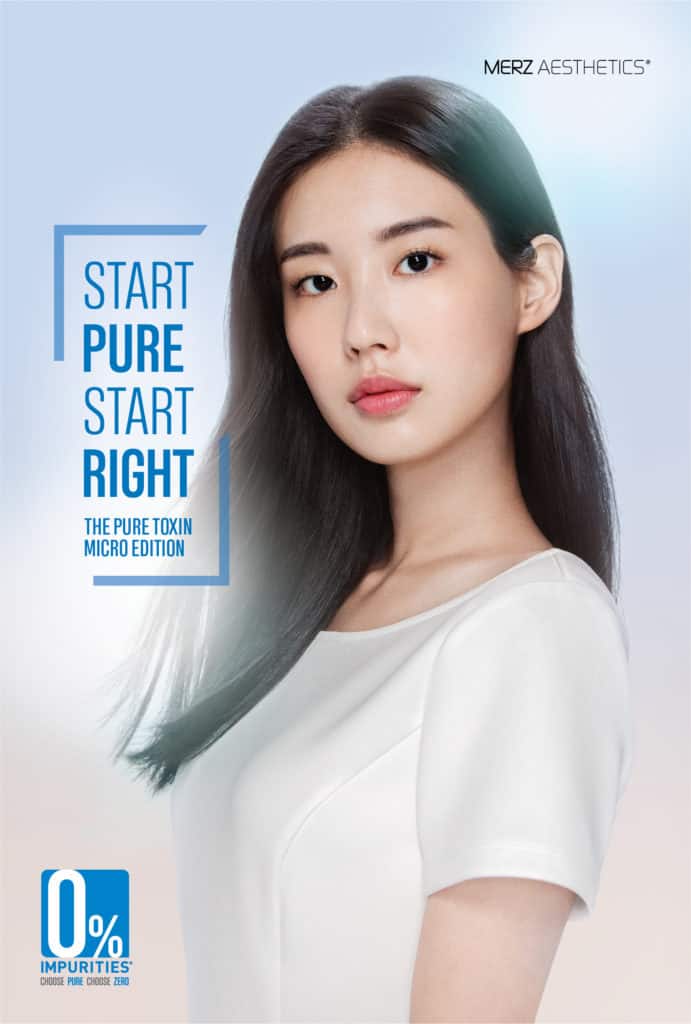 Results of experimental results of Xeomin Botox injection in the experimental group It was found that 99.4% did not find any stimulation to the body to produce anti-Botox agents (NAbs) and 0.6% found that the body produced anti-Botox substances.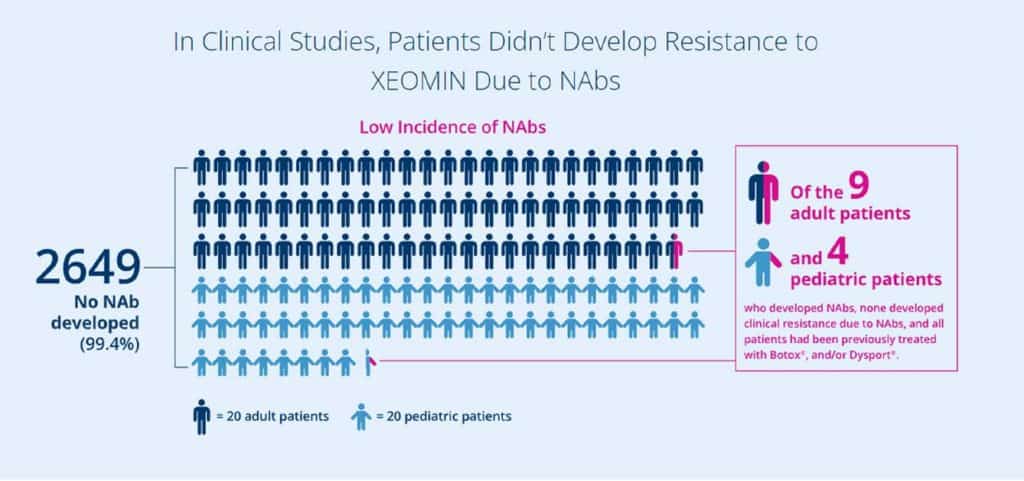 ---
How is Xeomin Botox different from other brands of Botox?
XTRACT Technology™ is used to remove unnecessary proteins. This makes the Xeomin Botox molecules highly purity.
It is Botox with the least molecular weight compared to other brands (Low Molecular weight), making it well dispersed.
Research has shown that Xeomin botox is more likely to be effective in drug-resistant cases than other brands, but Botox resistance is an incurable condition, so there is no guarantee that Xeomin will work in all drug-resistant cases.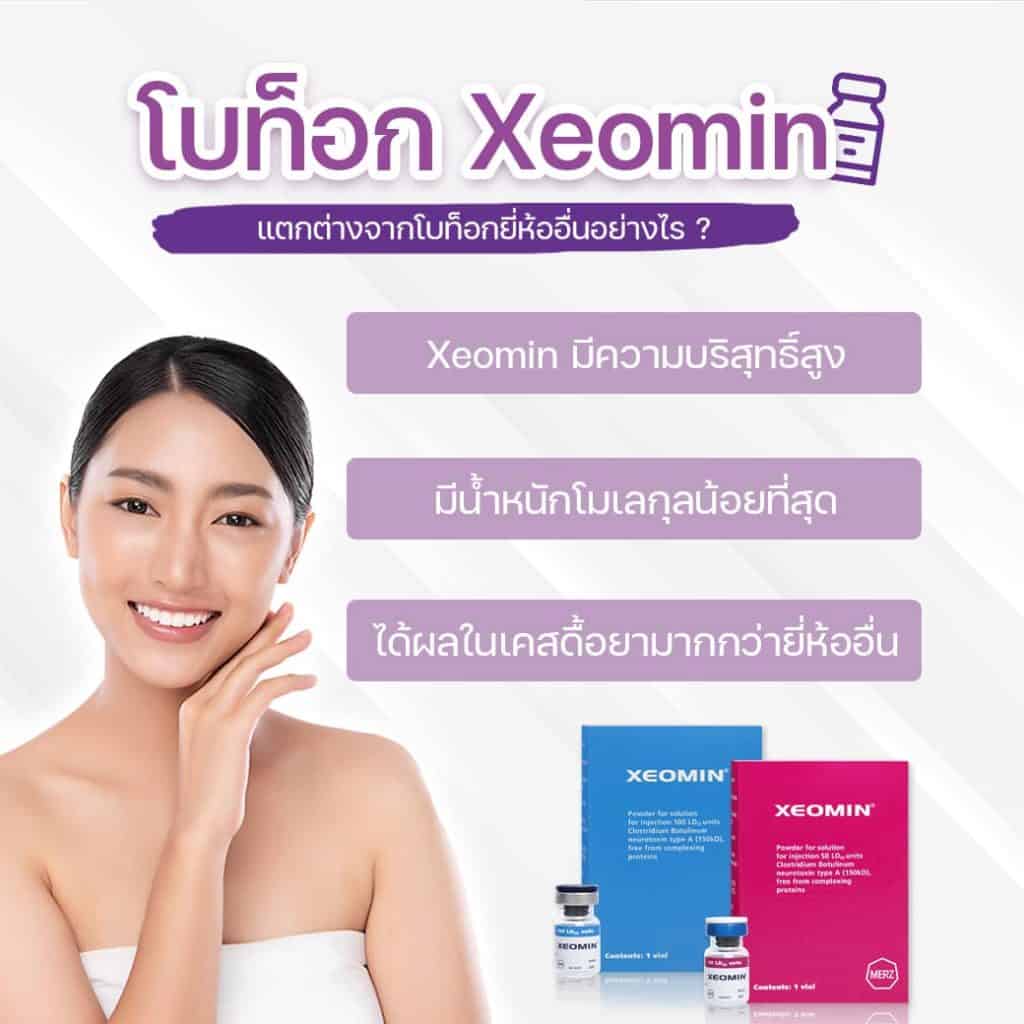 ---
What is unholy Botox?
Botox impurity means the presence of impurities that are not necessary for action due to different production procedures and advances in extraction technologies that vary from brand to brand, which also causes molecules to have different levels of purity. Commonly found impurities include complexing proteins, inactive neurotoxin, or manufacturing residues.
---
Where can I inject Xeomin Botox?
---
Preparation before Xeomin Botox injection
Discontinue taking NSAIDs, Vitamin E, cod liver oil and ginkgo leaf extract for 1 week.
Refrain from drinking alcohol 24 hours before treatment.
If you have a history of herpes on your lips, you should inform your doctor before treatment to avoid the area around your lips.
---
Preparation after Xeomin Botox injection
Refrain from lying down for 4 hours after treatment.
Refrain from massage. Rub the treated area for 4 – 6 hours.
Avoid thermal procedures (lasers) or saunas for 2 weeks.
Ice compresses can be used in case of bruising or redness.
Cosmetics can be used after treatment.
The bulge from the injection disappears on its own within 2 – 3 hours.
If there are any abnormalities, you should see a doctor immediately.
---
Possible side effects After Xeomin Botox Injection
Botoxeomin is an FDA-approved Botox and FDA approved in Thailand. Botox must be checked for authenticity and injected only by experienced doctors.
Fatigue, stiffness or small needle marks after Botox injections are normal symptoms that can occur and are not considered dangerous side effects. The chances of being allergic to Botox are very small.
Serious side effects include:
Infectious inflammation, which is usually caused by injections in non-standard clinics or pocket doctors who use equipment that is not clean enough. There is no sterile cleanliness system.
Eyelid drops The corners of the mouth are crooked, the smile is not the best, the face is stiff. Botox injections are caused near the location of side effects, such as injections near the upper eyelids, solving wrinkles around the eyes, causing muscle weakness in the eyelids and falling eyelids. If the injection is wrong, including the assessment of botox inappropriately and the injection is not in the right position.
---
How to see genuine Botox Xeomin
Note the QR Code on the top of the box, it must be able to scrape off and scan the check.
Thai documentation available
Lot number. 2 points matched is the lot number. On the box and number Lot. On the bottle label
You can ask for a lot number. And the clinic can be found at Merz Aesthetic Co., Ltd. 092-254-2662
The drug itself is coated at the bottom of the bottle. No water. The doctor had to mix saline and then suck the medicine out.
---
Does Botox Xeomin really make it resistant?
German Botox Xeomin is a high-purity Botox. The chances of drug resistance are therefore small. In addition, in cases of resistance from other brands of Botox, Xeomin is 50% effective.
More Articles
Contact Siam Clinic Phuket