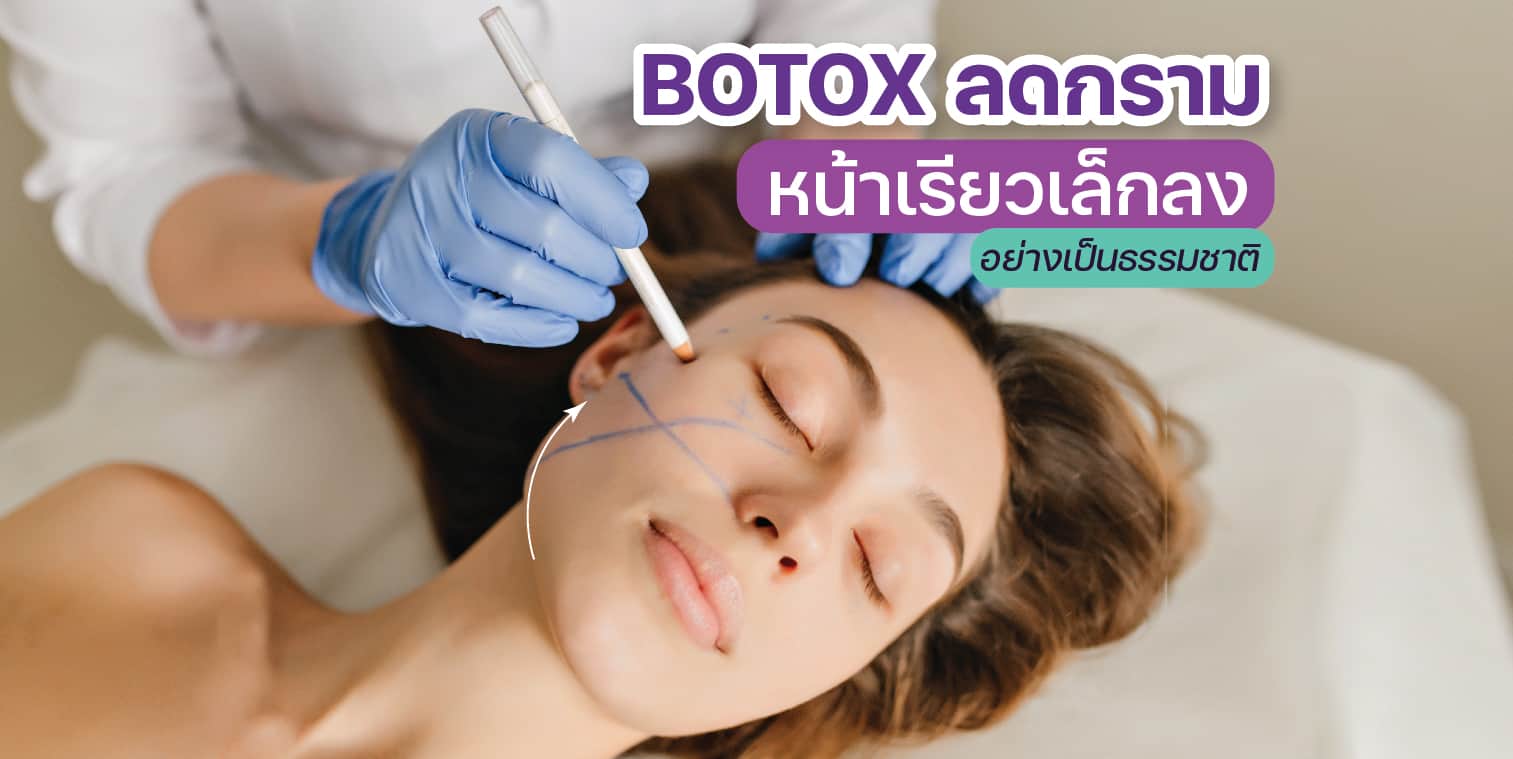 Jaw Reduction Botox Injection This helps the face to loosen the muscles around the neck, which after receiving Botox injections in the face can be seen in the front frame and under the chin, resulting in less cheek pulling and helping to adjust the liv around the face to look more clearly. Make your face look beautiful without surgery
Jaw reduction Botox injections and slender Botox are usually words that people understand to match, since the key points of facial feature depend on the size of the jaw. Let's get to the fore and understand the slender Botox story.
---
Does Botox jaw reduction really help to slender the face?
It helps to make the face taper, but it also depends on the patient's problems, because Botox only works for the muscles. The doctor must assess the patient who wants a slender face. There's a problem from where it's from the bones. Muscles or fat to introduce appropriate procedures.
---
You can manually check if you have a big jaw.
If you're the one who wants to have a slender face, it looks V-shaped, you can get a jaw-dropping Botox injection for the desired result.
Siam Clinic offers an easy way for you to check how much or how much your jaw muscles are at home. By trying to hold two hands around your jaw and gritting your teeth, you can feel the muscles bouncing against both hands, that is, the jaw muscles. If the force that bounces on your hand is quite large, then your jaw muscles are quite large as well. Which is where, if you inject Botox, the result is here.
---
Who is candidate for Botox jaw reduction?
Suitable for people with large jaw problems from jaw muscles. It can be done by both men and women. It can be used to adjust the face shape to be slender without surgery.
In individuals with a large jaw from the bone structure. Jaw-dropping Botox injections will not help.
---
Are there any side effects with Botox jaw reduction?
Minor syringe-track bruising, which disappears within 3-5 days.
Swelling or stiffness may be observed on the jaw area. In the first three days, which healed on its own.
Some people will feel that in the first week after injection, there is not much force to chew food, which is the result of Botox and is temporary. This symptom will heal within a week.
Possible adverse reactions After Botox injections in the jaw, which is once in a while, after injection, there are two uneven smiles, which is caused by the drug may also have an effect on the muscles used to smile.
---
Jaw reduction Botox injection, how many days do you see the results?
After Botox injection, the effect will begin to be seen in 2 weeks, with the jaw area softening and loosening until it touches itself.
The jaw muscles will collapse in full over a period from 2 weeks to 2 months, which will see more and more results.
We can make Botox Liv around the Face lift, making the jawline sharper as well.
---
Thread lifting vs Jaw Reduction Botox Injection
Both Thread lifting and Jawline botox. It can help slender faces in both types, depending on what kind of problem the patient has.
Botox reduces muscle size. The Threading has the hallmarks of lifting. Fix sagging
If the patient has sagging skin, Look, ok, gravity. Make the face look like a square, it can be tightened.
But there's no need to do it either. Injection of Botox and silk threads It can be done in tandem for better results.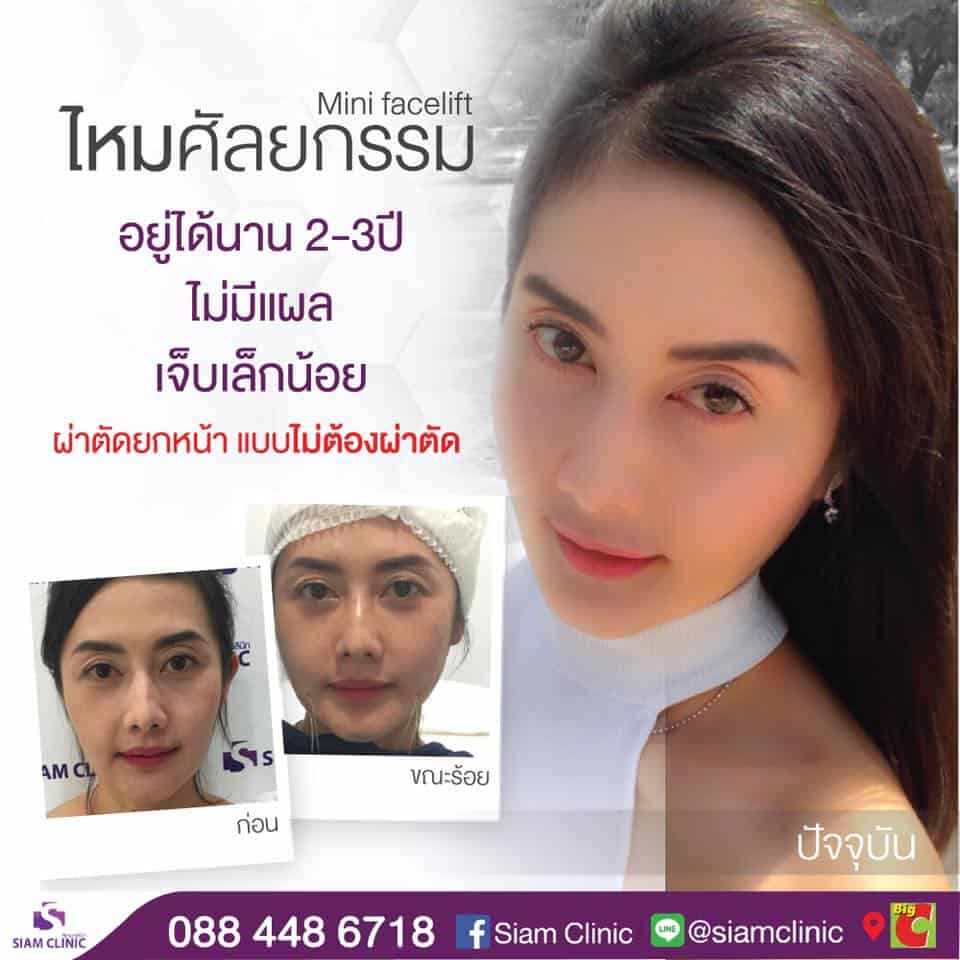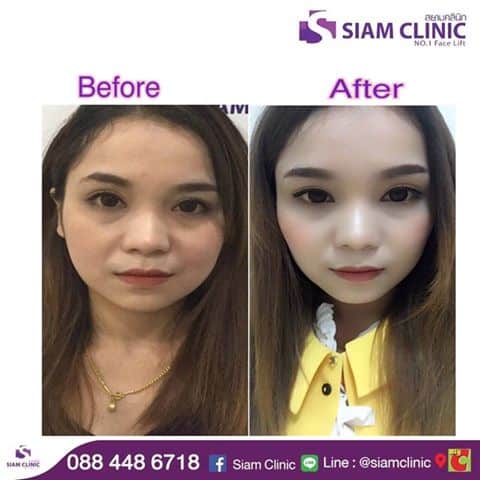 ---
Practice before jaw Botox injections
Painkillers, aspirin, NSAIDS anti-inflammatory drugs including Ibuprofen, Naproxen should be discontinued at least 2 weeks before injection to protect against bruising.
Refrain from vitamins that make it difficult to stop bleeding, such as vitamin E, fish oil. Evening Primrose oil, ginseng extract, ginger, garlic, ginkgo leaves for 2 weeks
Do not drink alcohol 24 hours before injection.
Physical health is in good condition, there are no serious medical conditions such as muscular dystrophy and are not pregnant or breastfeeding.
---
How should I take care of myself after Jawline Botox injections?
Immediately after Botox injection. Do not massage the face or press or stroke the Botox injection area because it affects the distribution of the drug.
Refrain from lying down or bowing out after 3 hours of injection, always keep your head level above heart level.
Refrain from sauna, heat treatment and face laser treatment for 2 weeks.
Refrain from fermented foods. Raw and alcohol 48 hours after injection
---
Besides the jaws, What other areas of the face can we inject Botox?
For complete face reshaping, Botox can be used in other parts of the face area as follows:
---
Highlights of Botox Jaw Reduction Injection at Siam Clinic
Guaranteed to see the results in every case after the case.
Here we have many reliable reviews for you to choose from before making a decision. It's a real patient review.
We provide affordable services. Not too high or too cheap.
We unpack the pills and open new bottles for patients to look at each other. It can also give patients boxes home. So that all of you who attend the service can check directly with the imported company.
Our doctors are direct medical professors at Botox, so we guarantee that the substance used in the injection is absolutely genuine. You can check every serial number.
Doctors use special effects based on calculations of shrinkage and loosening of shallow skin. After that, the doctor will design the face design of each patient to achieve the most lifting for immediate effect.
You will be served with high standards from siam clinics that are available to all of you.

---
Contact Siam Clinic Phuket