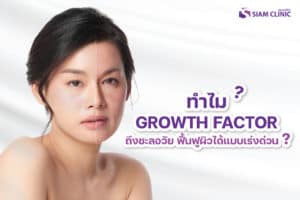 ---
Why can growth factor slow down aging?
Because growth factor is the ultimate skin food stem cell level with pure peptide innovation that helps repair skin deep to the cellular level (Skin-Cell).  Rejuvenates the entire skin cell It also contains more than 8,000 nutrients that stimulate the production of new skin cells and help repair the original cells to be stronger.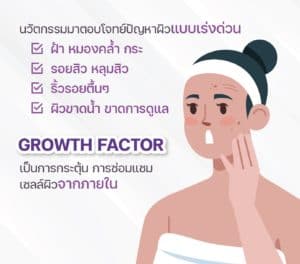 ---
Fresh Growth Factor Fresh Growth Factor
Siam Clinic Phuket provides the most innovative services that are invented to meet the treatment of all skin problems. The growth factor stimulates collagen production. Reduce pigmentation Reduce blemishes, freckles, dark spots Tighten pores Reduce acne, scars and other skin problems
For more information , click
---
Who is growth factor suitable for?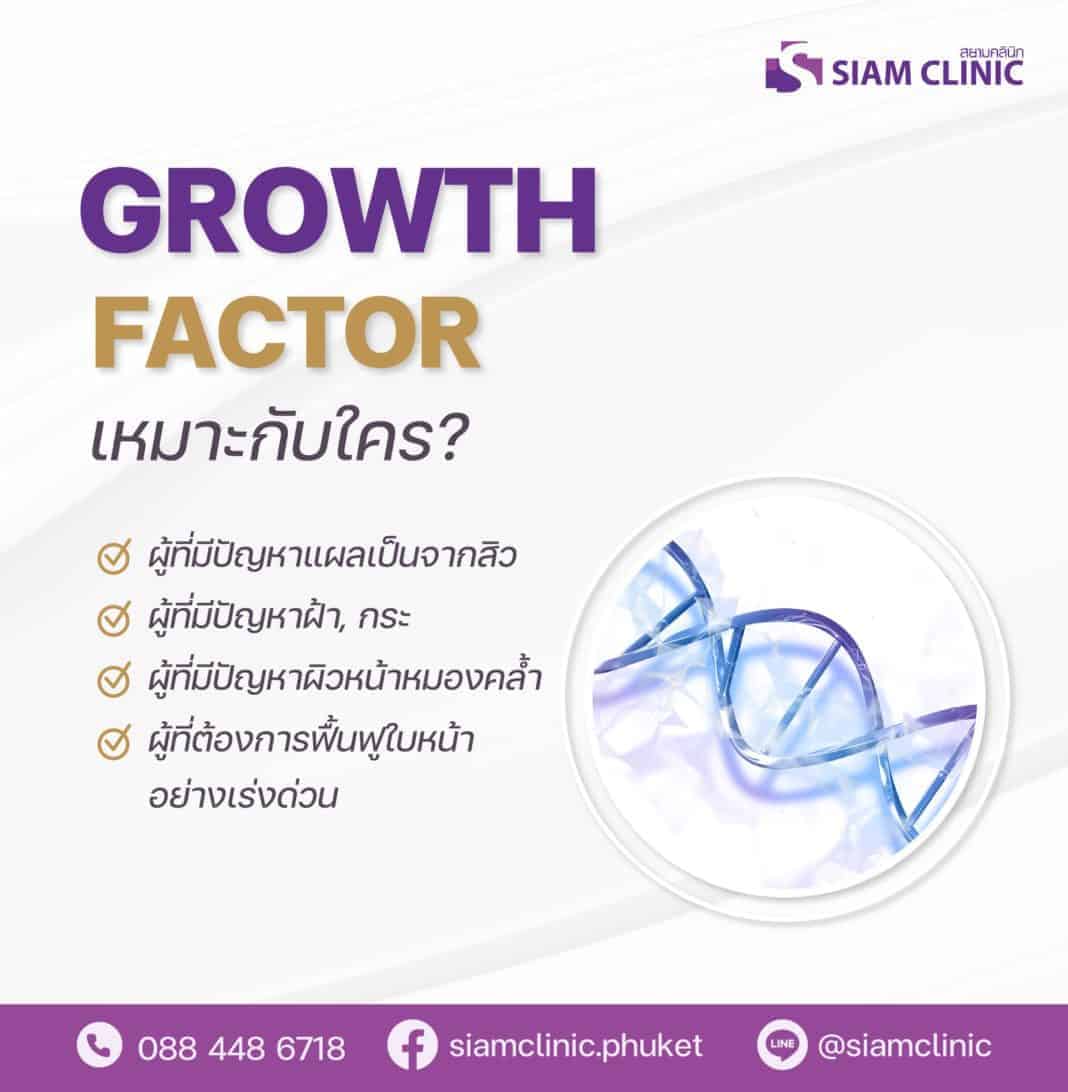 People with dull skin problems
Those who need urgent facial reconstruction
People with freckles and inconvenience with laser treatment
Those who have problems with wide pores, pores do not tighten.
People with scars, acne scars
For more information , click
---
What does growth factor help?
Reduce acne, redness and dark circles
Tighten pores
Rejuvenates the skin of the face.
Adjusts the condition of the face to be juicy.
Oxygenates the skin with aura.
Eliminates all skin condition problems
Stimulates collagen fibroblasts
Strengthens the skin from the inside
It also stimulates elastin production. Fibroblase and collagen in the dermis layer are reconstructed.
Make acne scars shallower.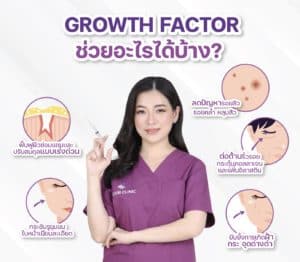 **Results depend on the skin type of the individual.
---
Where does growth factor come from?
Growth factor comes from human adipose-derived stem cells (ADSC) in a pure and safe laboratory. It is compatible with all human blood groups, which is important from a process that meets international standards.
---
Growth factor duration
After injection of growth factor The change will be observed from the first time it is done and the results will begin to become more noticeable after the growth factor injection for 2-3 weeks.
---
Side effects from growth factor injections
Since growth factor is a substance that is already produced by the body itself, it is highly safe.
---
What to do after treatment with growth factor injection
Do not wash your face for 3-5 hours after the growth factor injection.
Avoid applying makeup for 1-2 days after injection.
Reviews of people who have received

growth factor injection at

Siam Clinic
---
Injection Growth Factor with Siam Clinic
Concentrated formula
THB 29,999/3 bottles/whole page (1 bottle at a time) Concentrated formula focuses on restoring and treating the skin urgently throughout the face.
Premium Graded Formula
THB 60,000/3 bottles Can be done 3 times from the full price of 75,000 baht
Free! Melasma Pine Tree Mask 3 times valued at 22,500 Baht
Use genuine products, 100% safe, premium quality only, provided by specialized doctors with more than 10 years of experience.

---
Contact Siam Clinic Phuket